Meadowbrook Haunted Cornfield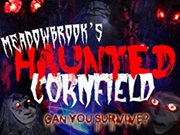 2016 Haunted Cornfield is well on its way to be the best ever! With Many New creatures, animatronics & and scenes.

The Meadowbrook Pumpkin Farm Haunted Cornfield experience is a MUST SEE - MUST DO - ONE OF A KIND adventure. YOU WILL HAVE FUN, and it WILL BE the FUNNEST THING you do this October! It's different from a Haunted House, totally un-staged and hair-raising! The country style bonfire with Haunting Stories of past spooky or ghostly times in the valley is experience worth it by itself.

The Live-Actor Nighttime Haunted Cornfield Adventures are on Friday and Saturday nights ONLY. That is the most intense time to come! Enjoy our Bonfire and hear haunting stories of past ghosts and spirits haunting the Farm, while you muster up the courage to make your way through the haunted cornfield! It has live actors, fog, specialty sound effects, action creatures, and light effects. It is geared for older kids & adults. This farm-style haunt takes 40-45 minutes to complete. Ages 12 and under are NOT RECOMMENDED, but use your own judgement. There are chicken gates along the way for those of you who cannot handle it or fear your health won't take it.

Experience the Haunted Cornfield Adventure - Over 3/4 mile of narrow mulch-covered trails that spread over a wide 6 acres of land. It is a jungle of tall corn, full of haunted & scary scenes, with action and sound effects, and almost alive-like creatures during the day... BUT MUCH MORE HAUNTED AT NIGHT! Creatures come to life... The fog rolls in... And eerie sounds fill the air while lights flicker and disorient you. Just like the eerie effects that one thinks of in the dark and creepy cornfields late at night. You never know which creatures are real, and which are not. However, touching the art exhibit displays or actors is strictly prohibited! You won't believe the effort we put in for your enjoyment. You will witness over 60 scenes, well over 200 creatures, sound effects, action figures, and live actors and props. THIS IS AWESOME! IT'S DEFINITELY "A MUST SEE, MUST DO ADVENTURE!" (It goes on light rain or moonshine) We continually change and add more to the field each season... More actors, props, and action characters. You will definitly get ideas on how to add to your Halloween pumpkin displays! We definitely have grown to be a one of a kind event in the midwest. Some say we put on a Hollywood-quality art display for Halloween. Well, we are on our way there!

Come early! We send people through in small groups of 6. Flashlights are not allowed! No long lines!
Meadowbrook Haunted Cornfield
Latest Reviews
There are no reviews for this listing yet!